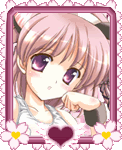 This is one of the rarer Nanako figures,  there are very few in existence.
Character: Nanako 菜々子 
Series: ToHeart2 Another Days
Manufacturer: Udon Koubou
Since: August 2008
Scale Size: 1/7


This is cute Nanako from ToHeart2,  she is cute, and comes with a nice and sparkly tail.  She is part of my now growing Nanako collection.  But I have to say there are a few Nanako figures that I am having trouble getting.  I was lucky to even get this one.  She came with a minor defect on her toe.  Seen in image 4.   Hopefully it is repairable once I learn how to paint and put together figures professionally.  I will not touch this kit till then lol.

I would love to place her on my desk, or in a display case.  I purchased her from Yahoo Japan! Auction, you can easily buy anything from Japanese websites using a deputy service.  Such websites I use are
http://www.shoppingmalljapan.com/
highly recommended. 
Mew Mew Style,
~Celeste~
Post can also be found at http://yurikitty.blogspot.com/